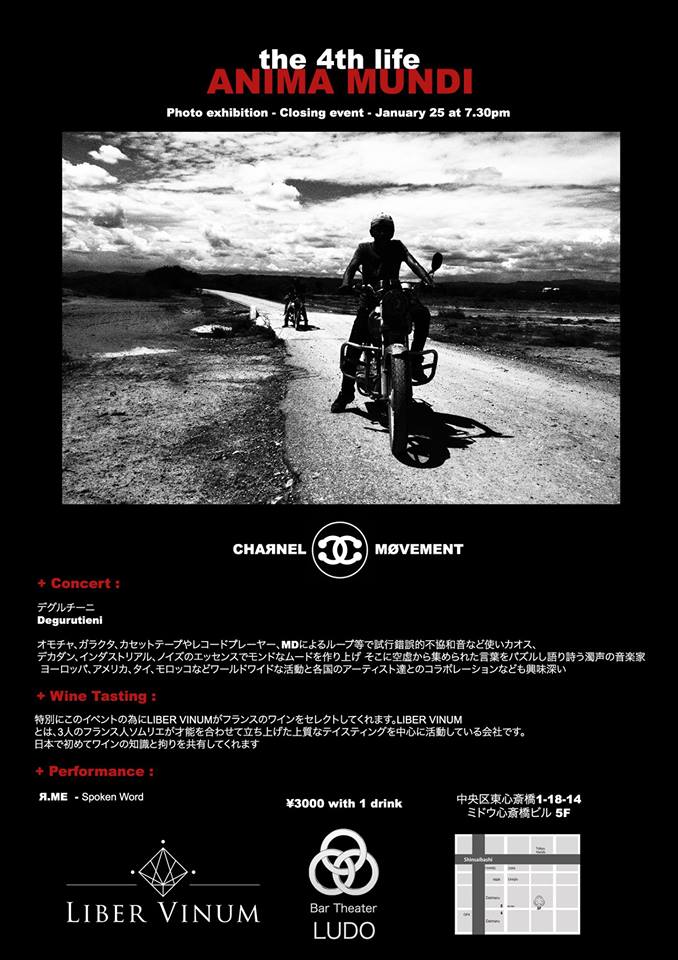 ANIMA MUNDI is the latest photo work developed by Lukas Zpira for CHAЯNEL Møvement.
The project is born from a shamanic experience. A creative process as the way to get back the control over a life. The photos, taken daily, are the pieces of a puzzle taking shape as we observe it."
During all the event you will be able to taste a wine selection created specially by Liber Vinum
-19:00 : Open
-21:00 : Spoken word performance – Я.ME (Lukas Zpira & Tarik Noui)
-21:30 : Concert – Degurutieni
Tickets ¥3000 (with 1D)
At the end of the event I will take down the photos print in 10/15cm format and will put them together in small hand made "books" signed and numbered.
Each book will be a unique set of photos.
You can buy the books (¥10 000) directly at the exhibition or reserve your own copie.
"ANIMA MUNDI"
CHAЯNEL Møvement 代表メンバーLukas Zpiraの写真展。
-19:00 : オープン
-21:00 : Spoken word パフォーマンス – Я.ME (Lukas Zpira & Tarik Noui)
-21:30 : Degurutieni ライブ
入場料 ¥3000 (1D込み)
イベントの最後に展示品がナンバリングとサインされユニークな本にまとまれて販売されます(サイズ 10x15cm、一冊¥10.000)