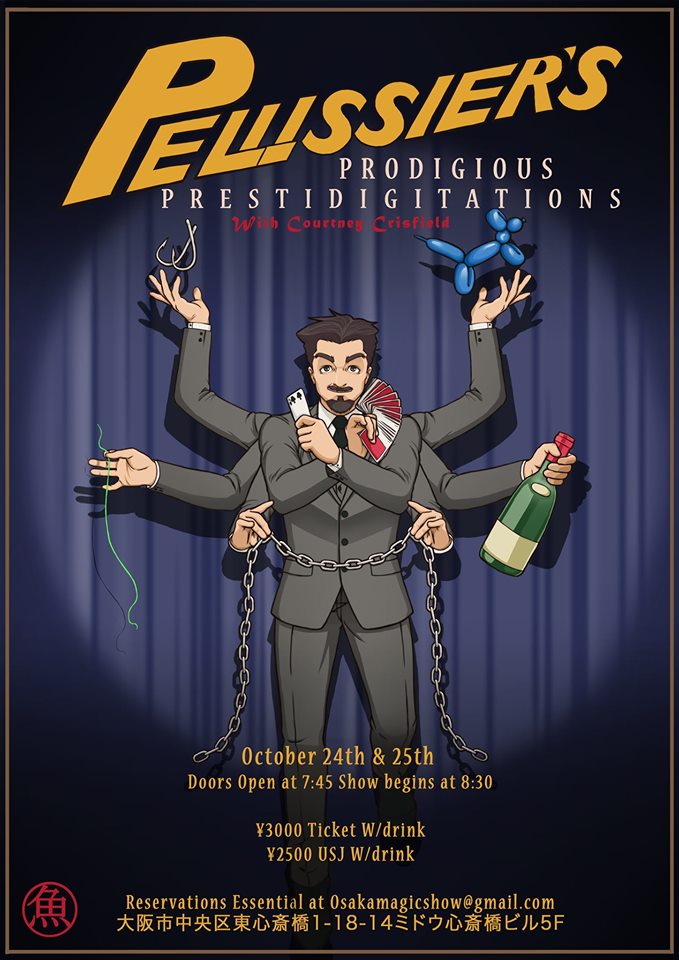 Come one, come all! 2 nights only!
Come see Rob Pellissier and Courtney Crisfield putting on the second annual Osaka Magic Show entitled: "Pellissier's Prodigious Prestidigitations".
There will be drinks and comedy and best of all…MAGIC. 24th and the 25th of October! Reservations are recommended so please email OsakaMagicShow@gmail.com with your name and how Many tickets you would like.
**************¥3000 Tickets drink ticked included!*************
**************¥2500 USJ ID with drink ticket included!*********
Doors open at 19:45~~~~~~~~~~~~~SHOW BEGINS AT 20:30
来て、全部来て! 2泊のみ! Rob PellissierとCourtney Crisfieldが、「Pellissier's Prodigious Prestidigitations」というタイトルの2回目の大阪マジックショーを開催するのをご覧ください。 飲み物とコメディと魔法があります! 10月24日と25日! ご予約をお勧めしますので、お名前とご希望のチケット数をOsakaMagicShow@gmail.comにメールしてください。
***************¥3000 ワンドリンク込みのチケット価格********
***************¥2500 ドリンク1杯付きUSJチケットの価格*****