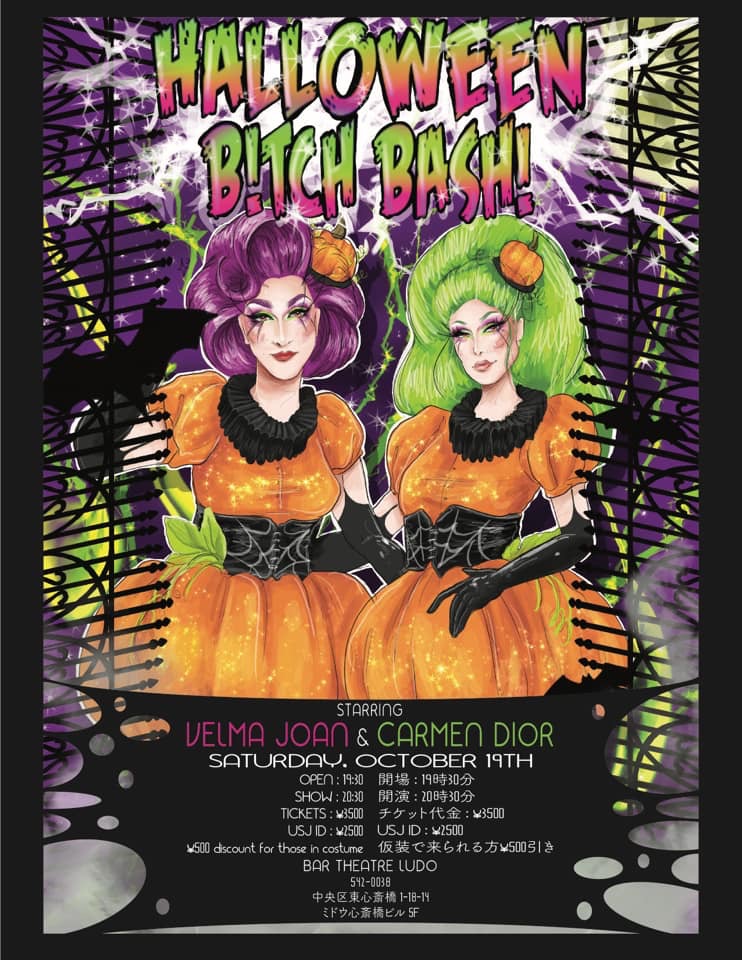 HALLOWEEN B!TCH BASH
October 19, 2019
Open: 7:30pm
Show Start: 8:30pm
Tickets: 3500yen(w/1Drink)
USJ: 2500yen(w/1Drink)
¥500 discount to all wearing a Halloween costume!
10月19日2019年
会場オープン: 19:30
ショー開始:  20:30
チケット料金: 3500円(1ドリンク込)
USJ関係者: 2500円(1ドリンク込)
仮装で来られる方¥500引き
Boo! The Halloween B!tch Bash is the event of the season, hosted by Velma Joan and Carmen Dior. Come party with us, play games, and strut your costume in our costume contest! Get your freak on!
ワッ!Halloween B!tch Bashはこの時期の最高のイベントとなります!一緒にパーティーして、ハロウィンゲームやって、コスチューム・コンテストしよう〜!
Featuring:
スペシャル・ゲスト:
Brittany Thomson
Karlee Hall
Risa Ogawa 小川璃紗
Wakaba Inubuchi
Because there is limited space it is very important that you reserve your tickets as soon as possible. You may reserve up to TWO tickets per name. To reserve a ticket, please send an email with your name, phone number, and the number of tickets you would like to reserve to osakaqueenz@gmail.com. If you would like to change the number or tickets you have reserved or cancel your reservation, please use the same email.
会場スペースに限りがございますので、できるだけ早く事前予約をすることが大事です。お一人様で最大2名分の予約をすることができます。チケットの予約方法ですが、予約者お名前・電話番号・人数をメールでご連絡下さい。osakaqueenz@gmail.com 同じメールアドレスでご予約内容の変更ができます。人数変更・予約の取り消しができます。
Things to Know:
重要なお知らせ:
Please do not arrive earlier than the venue open time. There is not space outside to wait in line.
会場が開く時間の前に到着しない様にして下さい。外で列を作って並ぶスペースがありません。
The event is general admission, so please be courteous of everyone's space.
一般向け有料イベントですので、お互いのスペースにご配慮下さい。
You MUST reserve a ticket for the show. Please do not arrive to the venue without a reservation.
ショー鑑賞には事前予約が必要です。予約なしで会場に来ることはできません。
Shoutout to @kevincakebread for the gorgeous artwork 😽