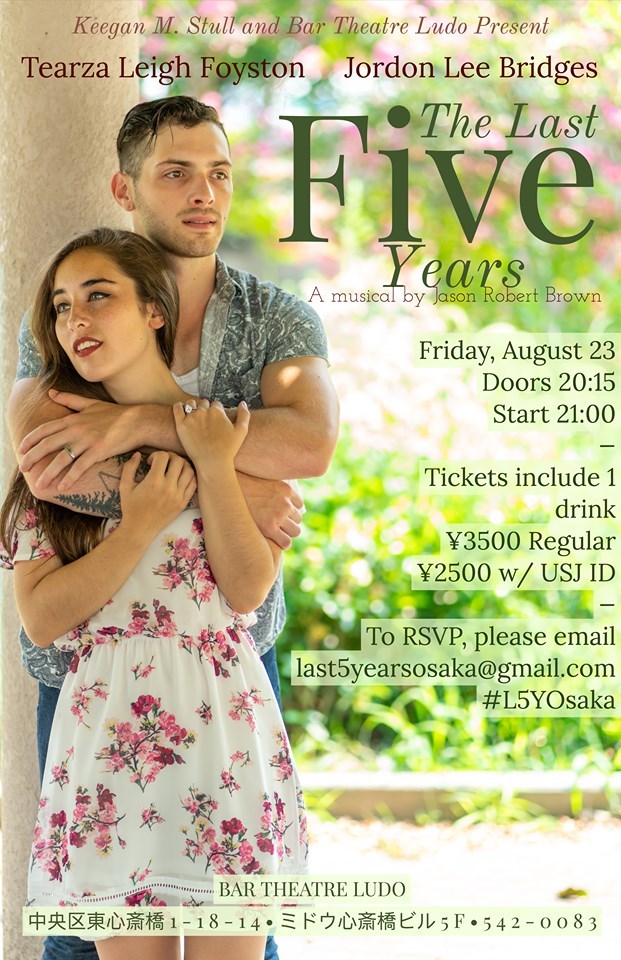 Come share in a story of love and loss on Friday August 23rd, 2019!
Starting Tearza Leigh Foyston and Jordon Lee Bridges! Directed by Keegan M Stull
9:00 at Theatre Bar Ludo! Doors opening at 8:15pm
Tickets (including 1 drink) are ¥3500; ¥2500 with a USJ ID.
Make reservations:
Email your name, number, and quantity of tickets to Last5YearsOsaka@gmail.com
予約用:
Last5YearsOsaka@gmail.comに名前、電話番号、チケット数をメールで送信
The popular musical by Jason Robert Brown follows the five year relationship of a young New York couple, from first date to their divorce.
The couples stories are told individually in reverse. Cathy, a struggling actress begins her story at their marriages end and progresses backwards through the relationship. Meanwhile, the rising star author Jamie lives through the relationship from start to end.
出会いから別れへ。別れから出会いへ。交錯し、すれ違う男女の心。
ニューヨークに住む女優の卵キャシーと成功し始めた小説家ジェイミー。ふたりが出会い、結婚し、別れに至る5年間を描いたストーリーだが、ジェイミーは出会いから別れに向かって、キャシーは別れから出会いに向かって、二人の時間軸が逆方向で進む構成となっている。
We look forward to seeing you there!
お会いできるのを楽しみにしています!